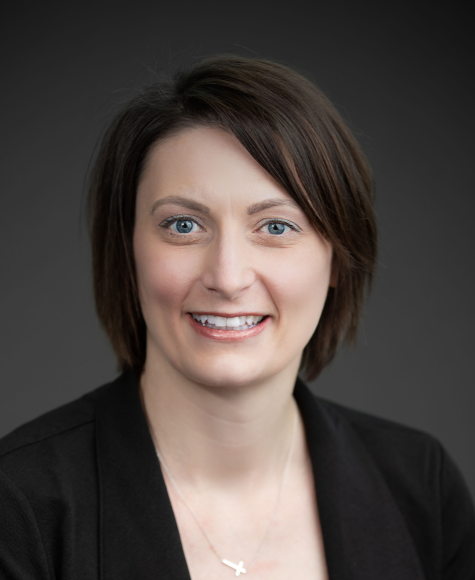 Brandy Currie, M. Ed, ATC, LAT
Brandy Currie is an assistant professor of Athletic Training at the University of Mary in Bismarck, North Dakota.  She received her Bachelor's degree in 2003 from the University of North Dakota and went on to pursue a career in athletic training as the head athletic trainer of a large high school in Arizona.  After moving back to North Dakota in 2010, Brandy was accepted to the University of North Dakota again, this time to pursue a Master's degree in Educational Leadership.  In her work at the University of Mary, Brandy has taught a variety of courses including prevention and care of injuries, injury evaluation, therapeutic exercise, and healthcare administration.  Additionally she shares her passion for leadership with students across campus by serving as a guest lecturer on the subject in other programs.
As a driven and motivated leader in the profession of athletic training, Brandy has served 2 terms as Vice President of the North Athletic Trainers' Association.  In that role, Brandy has pushed for growth and advancement of the profession in the state of North Dakota by working with the Executive Board to drive legislation that would update the state practice act.  This work would lead professional recognition as the Executive Board was awarded the Dan Campbell Legislative Award and Brandy was honored with the Dennis "Izzy" Isrow Above and Beyond the Call of Duty award by her peers.
Brandy Currie is also a certified John Maxwell Team Speaker, Trainer, and Coach with a passion for helping people find their calling in leadership and life while encouraging them to raise their leadership lid and grow into leadership roles.  As a speaker, Brandy uses real life experiences to connect with others and challenge them think outside of the box to take the next steps in their personal and professional growth.  As a trainer and coach, Brandy provides one-on-one leadership coaching to those looking to step into leadership roles.  Brandy has the gift of getting right to the heart of the matter and motivating people to step out of their comfort zone and into their growth zone.
Brandy has made it her life's mission to help others push the outer edge of what can be accomplished with her words of wisdom, candor, and drive.  She is visionary leader with a talent for connecting with others and inspiring shared goals by continually striving to add value to the lives of others.