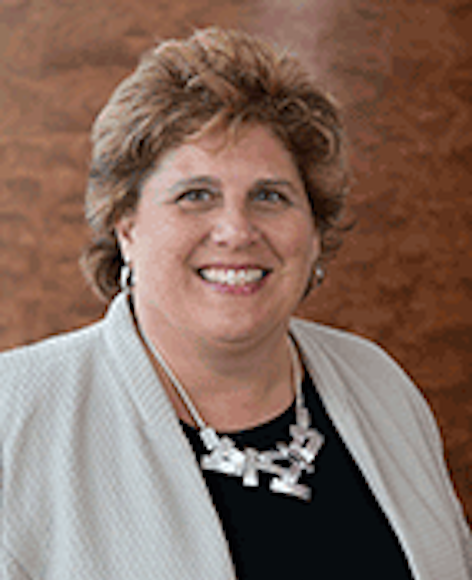 Marisa Brunett, MS, LAT, ATC
Marisa Brunett, MS, LAT, ATC brings vast professional experiences in administration, business development, athletic training/sports medicine program development & management, marketing & public relations for physician offices, hospitals and outpatient rehabilitation clinics and private & public high schools throughout Florida
Marisa has been actively involved in NATA, SEATA, ATAF & BOC for over 32 years.  She has been serving as the District IX Director on the NATA Board of Director's since June 2016. In June 2018 at the NATA Convention in New Orleans, the Board of Director's selected Marisa as the NATA Vice-President.  She is currently also a member of the NATA Health Care Reform Workgroup, as well as the ACO/MSO project workgroup. Marisa was the Board Liaison for the for the Committee on Practice Advancement assisting them with their transition to the new Council on Practice Advancement that was approved by the BOD's in June 2018. She also served as the board liaison for the newly formed ATs Care Committee, as well as the Convention Program Committee.  Currently Marisa sits on the NATA Finance Committee and is the Board Liaison to the Young Professionals, Student Leadership and COPA's Rehabilitation Clinic Committees.  Marisa served as the NATA Public Relations Chair for two terms, a member of the DME Workgroup, the NATA's Website Advisory Committee and the Worth to Value Workgroup. She has also served as a member of several other NATA Committees: Strategic Plan Work Group - Practice Models, Committee Term Limit Work Group, Wells Fargo Concussion Task Force, Honors and Awards Hall of Fame subcommittee, Convention Program Committee Project Team for Feature Presentations, Governance Task Force, Convention Registration Committee, Convention Committee-District IX Host Athletic Trainer for 47th Annual Clinical Symposium in Orlando, FL and as a moderator for several symposiums.
Marisa served as Vice-President on the Southeast Athletic Trainers' Association (SEATA) Executive Board from 2005-2010, as well as an Executive Board member from 2001-2005. She was also Chair for several SEATA Committees including: Public Relations, Annual Symposium Oversight and Symposium Site Selection. Marisa also served as a member of the following SEATA Committees & Task Forces: Meeting Review, Policy & Procedures, Annual Symposium Fiscal Accountability, Mission & Vision Statement, and By-Laws. Marisa has also presented on Public Relations at the SEATA Annual Clinical Symposium and Members' Meeting.
Marisa served The Athletic Trainers' Association of Florida (ATAF) as President, Past-President, Vice-President, Executive Board member, Education Committee Chair, Nominating Committee and a member of the 2018 ATAF 30thAnniversary Symposium Celebration Committee.  Currently, Marisa continues to serve ATAF as a member of the Florida Workers' Compensation Reimbursement Team, the Licensure Task Force, The Legacy Century Club and a member of an honors and awards committee. She was selected to serve as an initial member of the Florida Department of Health's Council of Athletic Training and was then appointed by two different Florida Governor's to the Department of Health's Board of Athletic Training where she served as Vice-Chair and a member.
Marisa also worked with the Board of Certification (BOC) for many years, serving as an examiner, Test Site Administrator for District IX, member of the Test Development Group, Qualified Examiner's Facilitator, and District IX's representative on the BOC Exam Administration Committee.
For over 32 years Marisa has served her communities in various roles, such as public speaker, Medical Coordinator, Host Site Athletic Trainer, Team Lead and Athletic Trainer for state, district, national and international sporting events. Marisa served as the local Medical Coordinator for the East West Shrine Games when they moved to Orlando, FL in 2010 & 2011.
She was also selected to serve as a member of the Orange County Public School District and Gatorade High School Athletic Trainer Advisory Boards.  Marisa has been a preceptor with the University of Central Florida Athletic Training Education program since 1998 and currently sits on their Faculty Advisory Board, Re-Accreditation Advisory Team and is a part of their mentor program.
Marisa has been recognized by her peers for her service and contributions to the athletic training profession. Marisa will be receiving the SEATA "Chuck Kimmel Award of Merit" in March 2019 at their 44thAnnual Clinical Symposium in Atlanta.  She was inducted into the SEATA "Hall of Fame" in 2011 and the ATAF "Hall of Fame" in 2008.  She received the NATA's "Most Distinguished Athletic Trainer Award" in 2011, as well as the "Athletic Trainer Service Award" in 2002.  She is the recipient of the 2008 SEATA "District Award", 2007 BOC "Dan Libera Service Award", 2002 and 1997 ATAF "Athletic Trainer of the Year" award, 1998 ATAF "Presidential Backbone Award" and the 1992 ATAF "Clinical Athletic Trainer of the Year" award.
Besides volunteering in her professional organizations, she is an avid music enthusiast that enjoys playing the drums, piano & guitar for pleasure and loves going to concerts. She also enjoys the beach and other outdoor activities. In addition to her career in health care, Marisa is actively involved with her family's 105-year-old Italian bread bakery, Tomaro's Bakery, in Clarksburg, WV as a Vice President & co-owner with her mother and brother and also runs their online shipping business. 
Marisa earned her BS in Physical Education/Athletic Training from West Virginia University and her MS in Administration/Program Development from Florida State University.
Currently, she is working as an athletic training and marketing services consultant.