Cultivating progress in research and practice
The research and educational laboratories of the Nicole Wertheim College of Nursing & Health Sciences offer students an unparalleled opportunity to learn, practice and expand their professional knowledge on campus, while supporting faculty research initiatives to advance evidence-based practice in various fields.
Driving Simulation Center
FIU Engineering Center
The Driving Simulation Center is one of the Core Research labs of the C.A.R.E. Center representing a unique collaboration between our college and the FIU College of Engineering & Computing. It builds upon the research from the Lehman Center for Transportation Research at FIU.
The high-fidelity driving simulator puts people of all ages behind the wheel of a STISIM Drive Model 400, providing a realistic setting for applied driver safety research. The interactive driving simulator has a 135-degree driver field of view and active steering and pedal system.
Our Occupational Therapy department uses the lab to keep roads safe for all through the DRIVESafe assessment program for older drivers. Virtual simulation screenings are conducted to assess vision, driving speeds, car control, reflexes, reactions and response times. Reports are then shared with the driver, healthcare providers or family caregivers to determine if any rehabilitation or therapies are needed to improve and safeguard their driving skills. Our Physical Therapy department uses the lab for cutting-edge research on driving safety and readiness after whiplash injuries.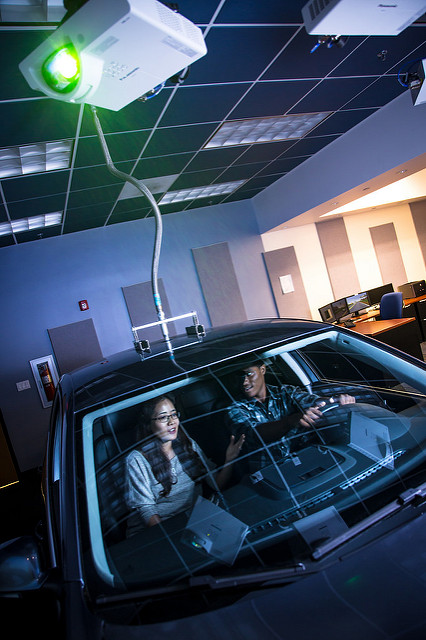 Communication Skills Laboratory
4th Floor, AHC 3 Building – Modesto A. Maidique Campus
Living in South Florida means encountering people daily who are bilingual. Ours is a richly diverse community where speaking English/Spanish or English/Creole dominate the conversation. But do you ever stop to think about bilingualism in the context of speech-language therapy and research? Well, we do.
Research being conducted in the Communication Skills Laboratory within our Department of Communication Sciences & Disorders is contributing toward understanding the role of bilingualism in normal and abnormal speech conditions, and how it can be integrated in the therapeutic process. It's here where our faculty and researchers aim to:
Promote fundamental and clinical research in bilingualism, with special emphasis on Spanish/English and Haitian Creole/English bilingualism
Approach speech/language disorders in bilingual populations
Investigate the social, cultural and psychological aspects of bilingualism
Elevate the stature as a reference center for issues related to bilingualism
Human Performance Analysis Lab
4th Floor, AHC 3 Building – Modesto A. Maidique Campus
This Core Research Lab of our C.A.R.E. Center hosts several innovative teaching and research tools and equipment used for the advanced understanding of human movement and injury prevention.
From studying gait and athletic events, reaching and preparing for an object for manipulation, to respiration and subtle facial movements during speech, this lab equips our faculty and students to discover breakthroughs for patient rehabilitation therapies.
The state-of-the-art equipment in this laboratory includes:
Qualisys 3-D motion capture analysis of joint motion and acceleration
Force platform monitor of ground reaction forces for calculation and analysis of joint movements
Accelerator sensor gloves for the evaluation of reaction forces from the upper extremities
Eye tracking system for measuring a point of gaze and a motion of an eye relative to the head
NeuroCOM balance system to evaluate and treat balance dysfunction in all populations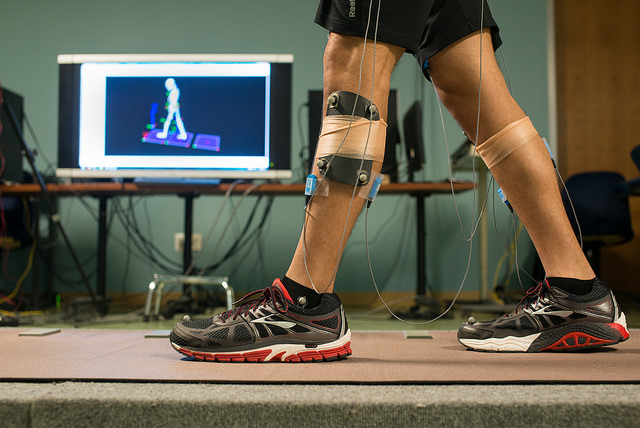 Systems Neuroscience & Rehabilitation Lab
4th Floor, AHC 3 Building – Modesto A. Maidique Campus
The Systems Neuroscience & Rehabilitation Lab is a collaborative research space directed by FIU's departments of Physical Therapy and Biomedical Engineering. Here, we investigate the ways in which the central nervous system controls movement through study of the motor unit: the key structure that transforms neural commands that converge upon it in the spinal cord into motor output through the generation of muscle force.
Research activity includes:
Non-invasive measurement of motor unit discharge in multiple muscles simultaneously using high-density surface EMG decomposition
Quantifying and characterizing motor unit discharge in persons with multiple sclerosis or those who have had a stroke
Determining the ways in which pathological motor unit discharge is associated with clinical motor deficits following injury to the central nervous system
Development of novel motor unit analysis methods
Therapeutic & Pediatric Labs
4th Floor, AHC 3 Building – Modesto A. Maidique Campus
Along with rehabilitation comes therapy. We've designed labs emphasizing this element of the care plan for students to practice testing and assessments, utilize the latest tools and resources, develop interventions, and of course, study.
Therapeutic Lab:
Provides a dedicated space to facilitate the learning and practice of therapy interventions and techniques. The laboratory is equipped with:
Rehabilitation machines like BTE machines
Activities of Daily Living (ADL) equipment
Assistive technology material
High/low tables
Splinting equipment
Mobility devices
Fully functioning kitchen, washer dryer and bathroom for simulated instruction
Pediatric Lab:
Students use the lab for the learning and practice of interventions and techniques with the pediatric population. The laboratory is equipped with a variety of sensory motor equipment including a therapy pool, swings, wheel chairs, etc.