Innovative Education
Students of the Nicole Wertheim College of Nursing & Health Sciences build clinical skills in a challenging, multidisciplinary environment using 21st Century technology. Cutting-edge tech is incorporated into every student's learning experience because we understand that the right technology in the right setting drives advances in education and research, and creates the clinical acumen that will carry over into your professional career.
Anatomage: Virtual Dissection
Described by some as a life-size iPad, the 7-foot-long Anatomage virtual dissection tables allow students and faculty to interact through advanced touch-enabled anatomy. This hands-on visualization system gives you an incredible insight into layer after layer of anatomy without having to touch a scalpel or cadaver.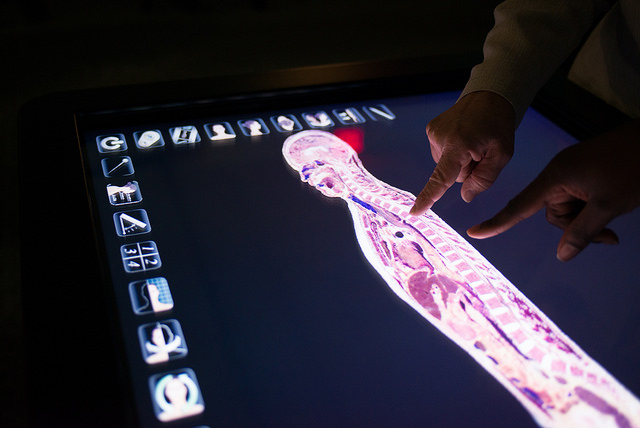 In-Motion Robots: Motor Recovery
The InMotion robot is a revolutionary rehabilitation apparatus designed to improve motor recovery of the upper extremities for patients up to eight years after suffering a stroke or a traumatic brain injury. FIU was the first university in Florida to own an InMotion robot. As an occupational therapy or physical therapy student, you can use the InMotion robot to find the most effective course of treatment and rehabilitation for a patient.
HoloLens: Augmented/Mixed Reality Learning
The Microsoft HoloLens is much more than a head-mounted gadget – it's a self-contained, holographic computer enabling you to interact with digital content in the world around you. Unlike Virtual Reality (VR) devices that immerse you in a simulated world, the HoloLens superimposes 3D objects in your existing environment.
The HoloLens embraces virtual and augmented reality to create a "mixed reality" environment of holograms giving students the look and feel of real-world experiences to build proficiency, develop confidence, explore and learn.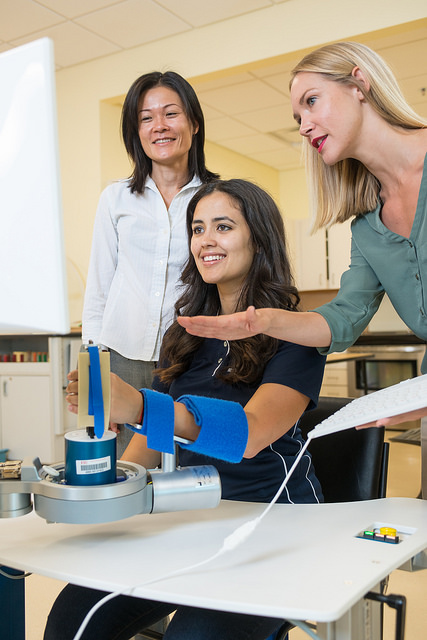 Victoria: Labor & Delivery Simulator
Gaumard Scientific's Victoria sets a new standard of realism in childbirth simulation, with anatomically correct features and reflexes, fetal movement and monitoring, multiple delivery scenarios and a tether-less design to perform true "care in motion" simulations. She is the most advanced, life-like childbirth patient simulator in classrooms today. She's a real trooper too, "giving birth" up to 19 times a day to help students learn about labor and delivery.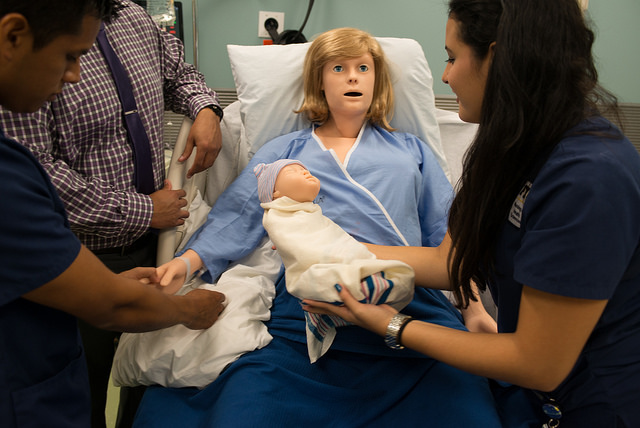 Motion Analysis Equipment
Our Human Performance Analysis Lab features a wide range of additional technologies for learning and conducting research, including:
QTM 9-camera system with motion caption software to track and measure real-time movements in 2-D, 3-D and 6-DOF (6 degrees of freedom)
C-Motion visual 3-D software for motion analysis, real-time data streaming and data capture and modeling
NeuroCOM computerized system to analyze balance and mobility disorders
Mobile-EYE XG to track and record eye, head and body movements
DataLink (DLK900) and DataLog MWX8 wearable data acquisition systems to collect and monitor human performance data
High-density surface electromyography (EMG) machines detect and record the signals generated by muscle cells use to analyze medical abnormalities or biomechanics of movement
Double Robotics: Virtual Presence
At first glance, you'll see an iPad on a stick with wheels – power-driven, shock absorbing, gyroscopically stabilized wheels at that. But look deeper, and you'll find that Double Robotics is being used by FIU and others in higher education in many ways, especially to extend the physical presence through technology. This includes building hybrid classrooms with both online and in-person students, and even enabling professors to continue teaching in the classroom or lab with a virtual presence when they physically can't be there in person.