FIU Health Services Administration at the Nicole Wertheim College of Nursing & Health Sciences emphasizes ethical change management, interprofessional collaboration, leadership, informatics and communication so these professionals can manage and shape policy in a fast-changing, fast-paced technological environment.
Healthcare is continuously evolving rapidly in the United States. The FIU Master of Health Services Administration program prepares students for executive leadership positions in healthcare organizations and equips you with the skillset healthcare organizations seek.
You can earn your master's degree in just 24 months through our fully online program while acquiring valuable skills through coursework focused on finance, operations, marketing, management, quality assessment, and information technology of healthcare institutions. The program culminates with an administrative residency or master's research project.
There is also a fast track option that allows you to expedite your education in just 18-months to drive change and lead healthcare organizations and systems. The MHSA Fast Track program was designed for self-motivated learners with knowledge in healthcare administration, leadership, and practice in a health-related field to help you earn the advanced degree fast. The program is delivered in eight weeks semesters, is cohort-based, and you will have access to synchronous education. It involves a combination of learning approaches such as students viewing a live web stream of a class, facilitated students and instructors participate in a course via a web conference.
The 48-credit program culminates with an administrative residency or master's research project.
The Nicole Wertheim College of Nursing and Health Sciences, Health Services Administration Department, Master of Health Administration (MHSA) program is proud to announce that it has been granted Candidacy Status by the Commission on Accreditation Healthcare Management Education (CAHME). The CAHME Candidacy Program allows the program to be considered for Candidate Status, designed to establish communication, assistance, and continuity between CAHME and programs in healthcare management seeking CAHME accreditation. The "Candidate​" designation indicates that a program has voluntarily committed to participate in a systematic plan of quality enhancement and continuous improvement so that CAHME accreditation is a feasible and operational objective. Candidacy status does not indicate accredited status, nor does it guarantee eventual accreditation. Currently, the MHSA program is participating in its self-study year, which started in 2020 to earn the CAHME accredited status.
6

Semesters

48

Credits

50

Students admitted bi-annually
Choose Your Learning Track
You have a choice in the academic experience you want to engage in for your MHSA studies:
Online MHSA
Offered solely through the FIU ONLINE platform and designed with the working professional in mind, the Online MHSA reflects the highly technological environment associated with the field. Visit the MHSA site at FIU ONLINE for more information.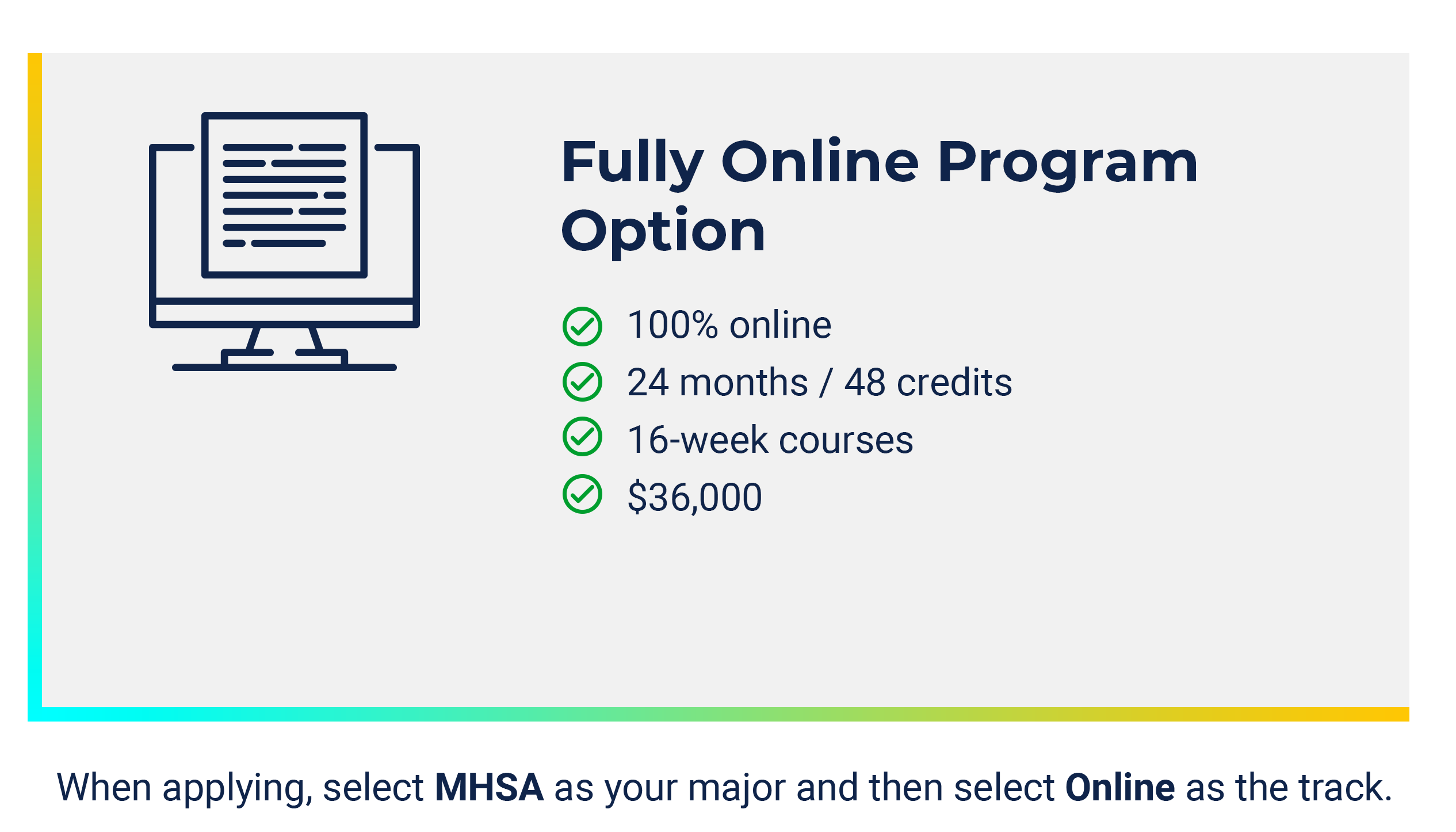 Fast Track 18-months MHSA
We designed our 

Fast Track 18-months 

program for students to master the combination of technological and management skills with interpersonal collaborations that define health management at the highest levels. Each course is evenly split between online content delivered through FIU Online and on-campus classroom learning.