Master of Health Services Administration (MHSA)
Welcome to the Master of Health Services Administration-Program Overview
Our Master of Health Services Administration program educates students to help them develop professional career opportunities. Given how complex healthcare systems are, prepared healthcare personnel and executives are required to stay current with progress and change in the industry. This includes technological innovations. The effective administration of high-quality health services that reduce health inequities are pressing concerns for healthcare professionals. We provide graduates with the tools to drive system-related and organizational transformation through applied principles from the business and health sciences industries. The courses in this program are beneficial because health services administrators are increasingly recognized as capable of participating in technological innovations that improve the operation of healthcare organizations, the delivery of higher-quality healthcare, organizational governance, and patient health outcomes. Our program offers a holistic approach to the healthcare industry with courses that focus on:
Organizational leadership and management
Quality assessment
Design of health information systems
Specialized healthcare services
Professional development training
Problem-solving skills
Lean Six Sigma Training & Certification
All students are eligible to be Green Belt Lean Six Sigma certified, without additional tuition fees.
Lean Six Sigma Training & Certification is a problem-solving training that shows the most practical and straightforward approaches to achieving measurable organizational improvement results. Why is certification in lean six sigma key?
Healthcare organizations are looking for knowledgeable and qualified talent to address the industry's most urgent and rapidly evolving challenges. Obtaining the green belt certification offers a competitive advantage.
The Healthcare Industry is confronted with the following:
Patient wait times and quality of care
Changing finances that result in shifting resources
New guidelines /laws that mandate operational improvements
Time constraints on training and process improvement
Simplify problem-solving to assist the Healthcare Industry in overcoming these challenges so that they can serve your communities more effectively.
During the 32hr certification modules, students:
Choose the appropriate improvement projects
Utilize the DMAIC Process to accomplish the project objectives.
Get support for the project to ensure its success
Showcase and expand your project's outcomes
Careers 
Designed to help students at FIU get their careers off the ground, Handshake is a one-stop shop for doing just that. The time to begin looking for a new job is right now. To access Handshake, please sign in. You may consult with a Professional Mentor or Coach. FIU Handshake is a platform where current and former students and faculty can connect and schedule meetings.
Advanced Healthcare Services Infrastructure and Innovation Focus
Health sciences-based approaches are scarce in conventional healthcare training programs that are typically housed in business schools—most have few courses in the healthcare industry. As a result, they fall short of providing training to match the performance objectives of community health infrastructures and services. Employers may have difficulty recruiting qualified healthcare professionals that focus on healthcare administration if industry-specific training is not available. While business school programs dedicate significant time to developing business abilities, these skills, while important, are insufficient to advance graduates to handle healthcare practitioners and organizations.
Each individual is unique, and our expertise transcends a one-size-fits-all approach. Our curriculum is customized to meet your unique career aspirations, and we collaborate closely with you for engagement in professional growth. When our adjunct faculty members mentor you, you will be taught vital principles in the art of innovation by individuals who are chief executives, chief financial officers, or run their healthcare businesses.
We collaborate with alumni and our advisory board to innovate and stay at the forefront of the latest in the field of health, supported by industry experts and business people who will talk about what it's like to be a healthcare entrepreneur.
Certifications
Completing the MHSA degree qualifies graduates in various fields of expertise through certifications that would increase earning potential, including the Fellow of the American College of Healthcare Executives (FACHE), awarded through the American College of Healthcare Executives. Its primary concentration is on healthcare administration, and it is best suited for healthcare management professionals pursuing careers in finance and operations rather than information technology. 
Contact sscnhs@fiu.edu for specific information on each program, certification, and degree requirements.
The Nicole Wertheim College of Nursing and Health Sciences, Health Services Administration Department, Master of Health Administration (MHSA) program is proud to announce that it has been granted Candidacy Status by the Commission on Accreditation Healthcare Management Education (CAHME). The CAHME Candidacy Program allows the program to be considered for Candidate Status, designed to establish communication, assistance, and continuity between CAHME and programs in healthcare management seeking CAHME accreditation. The "Candidate​" designation indicates that a program has voluntarily committed to participate in a systematic plan of quality enhancement and continuous improvement so that CAHME accreditation is a feasible and operational objective. Candidacy status does not indicate accredited status, nor does it guarantee eventual accreditation. Currently, the MHSA program is participating in its self-study year. Accreditation is a rigorous, defined procedure that guides our efforts to earn specialized accreditation. This procedure needs time, and we are making headway toward its end. When additional information becomes available, it will be posted.
6

Semesters

48

Credits

50

Students admitted bi-annually
Choose Your Learning Track
You have a choice in the academic experience you want to engage in for your MHSA studies:
Online MHSA
Offered solely through the FIU ONLINE platform and designed with the working professional in mind, the Online MHSA reflects the highly technological environment associated with the field. Visit the MHSA site at FIU ONLINE for more information.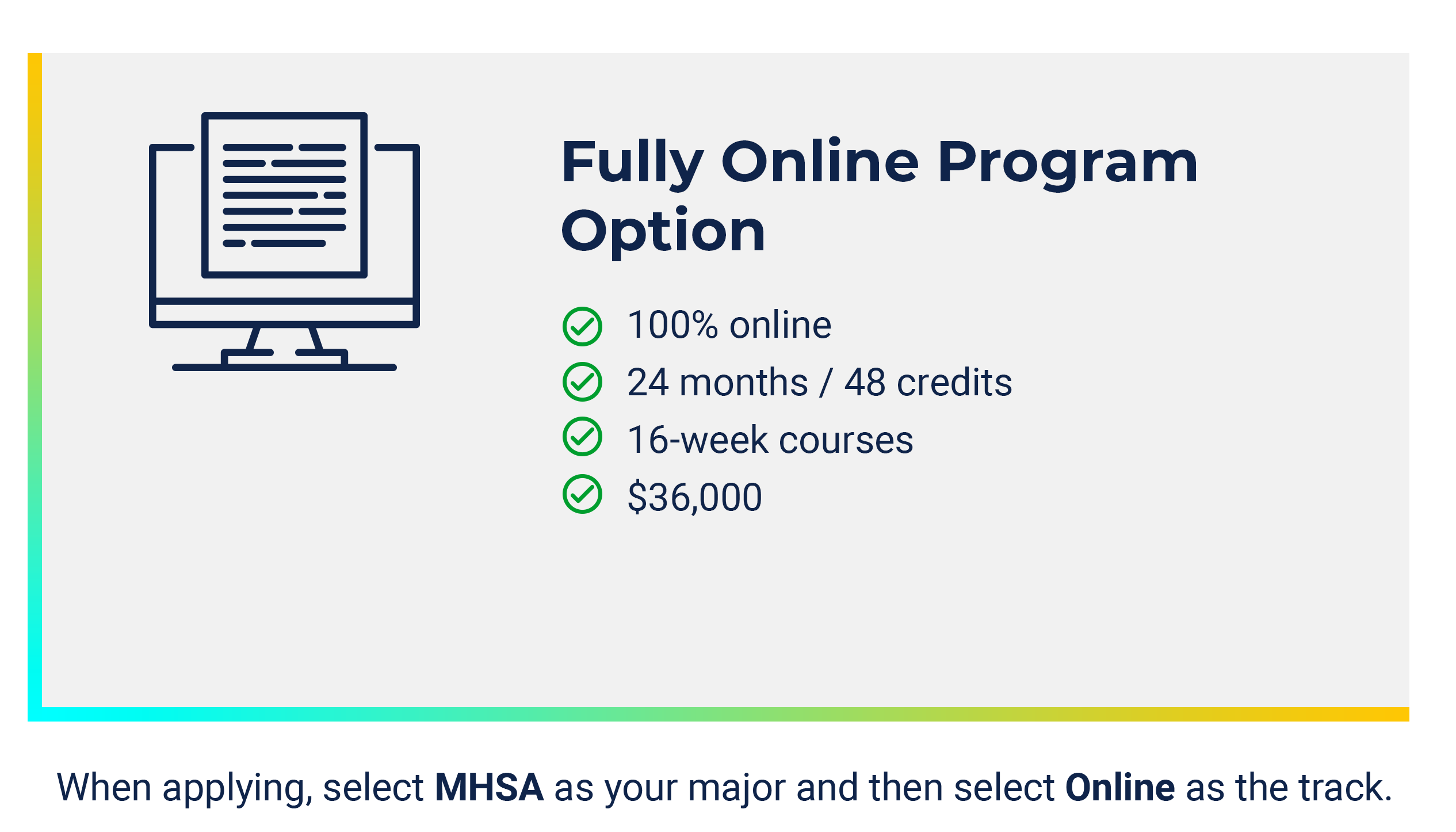 Fast Track 18-months MHSA
We designed our 

Fast Track 18-months 

program for students to master the combination of technological and management skills with interpersonal collaborations that define health management at the highest levels. Each course is evenly split between online content delivered through FIU Online and on-campus classroom learning.